Tuf-Barrier sound barrier walls reflect unwanted noise back to its source and beyond
PVC Reflective Sound Barrier Wall System
Lightweight and easy to install, our Tuf-Barrier Sound Walls are engineered for the maximum reflection of ambient or environmental noise such as industrial, manufacturing, traffic or commercial noise. Our PVC walls not only block and reflect unwanted noise, but they're also built in a way that makes it easy for graffiti and tagging to be removed. Play Video >>
See all AIL Sound Walls' Features & Benefits >>
Tuf-Barrier's smooth surface is designed to reflect unwanted noise in railway or highway noise barrier walls and many other applications. With an overall density of more than four pounds per square foot, and the ability to withstand a considerable wind live load, AIL's Tuf-Barrier reflective sound wall system is known for its strength and sound reduction performance.
Reflective noise mitigation for highway noise barriers and other applications
With their easy-to-install PVC panels and construction versatility in narrow job sites, Tuf-Barrier is the go-to sound barrier solution for demanding noise mitigation jobs like railway or highway noise barriers and other applications. See product specifications >>
Easy to install with local crews and reduced need for lifting equipment
AIL Sound Walls are constructed with tongue and groove PVC panels. Panels are stacked and placed within standard steel posts to the required height and capped with a top panel. A standard panel is 10 ft. (3 m) in length and weighs only 21 lbs. (9.5 kg). See how easy AIL Sound Walls install on a variety of footing types in our Installation Video >>
Tuf-Barrier XL — going the distance for better value
Tuf-Barrier XL can reach lengths of 14′ or 16′ between posts which means fewer posts and foundations for even lower installed costs. With this XL product innovation, we can design our Tuf-Barrier and Tuf-Barrier Plus sound barrier walls with longer spans for all types of wind conditions— even hurricane zones. Ask your AIL Sound Walls representative about putting this product innovation to work for your better bottom line.
Sound barrier walls in a variety of colors and textures
AIL Sound Walls are available in a variety of attractive colors and textures in both Standard and Upgraded finish levels. Custom colors are also available. Color reproduction on this website is subject to limitations of a number of variables, including your viewing device. Please ask for actual PVC color samples.
Gray
Adobe
Tan
White
Honey Maple
NEW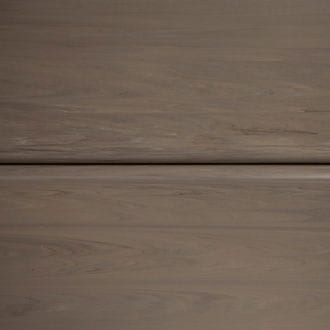 Green Teak
NEW
Add an optional embossed woodgrain texture to any flat color.
Full and partial transparent panels available
Reduce the tunnel effect and allow more natural light onto roadways or properties by incorporating clear reflective panels into your design.